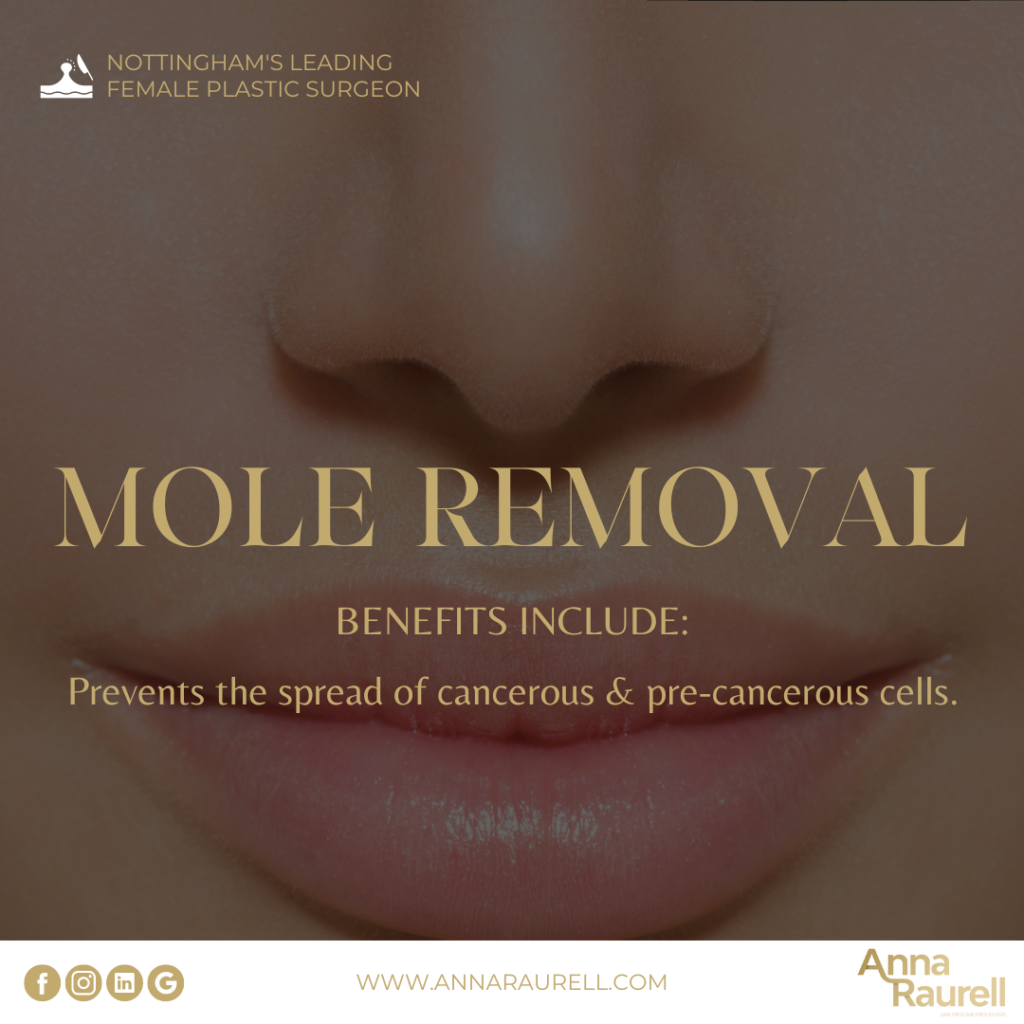 If you are concerned about a mole's appearance or that it may be cancerous, mole removal can provide valuable peace of mind and increased confidence. It can also provide relief from any irritation the mole may cause as it rubs against the skin, jewellery, or clothing.
Patients should be healthy, both emotionally and physically, with no major medical conditions that might interfere with their treatment or recovery. They should also be realistic in their expectations for their results, understanding that improvement, not perfection, is the most likely outcome for any cosmetic procedure.
Here are our post operative care information:
IMMEDIATLEY POST OPERATIVE
You will have the area(s) covered with steri-strips (adhesive tape) for at least 4 – 7 days, possibly longer depending on healing and the area of removal.
Expect to return to the office after 1 week to remove sutures.
If you experience any discomfort, you may take pain medication every 4 to 6 hours as needed. 
Avoid alcoholic beverages for 2 weeks post-op.
Avoid intense exercise and or sweating for the first week.
Use soap and water to gently cleanse around the tape as needed. If the tape gets wet, pat it dry, do not remove it. 
Swelling and bruising is very normal for up to 4 weeks. Most swelling subsides within 2 weeks.
It is normal for healing wounds to feel slightly tender to the touch and look pink around the edges. However, if after a few days it becomes increasingly red, swollen, painful, hot or develops a discharge, please call our office.
3 WEEKS POST OPERATIVE
Anticipate purchasing a scar gel at your post-op appointment to start applying at week 3.
Avoid direct sunlight to the incision for at least 1 year to help prevent hyperpigmentation. Use a sunscreen with zinc oxide with an SPF of 20 or greater to help decrease the visibility of the scar.
You can find out more about mole removal here, or book in for a consultation.