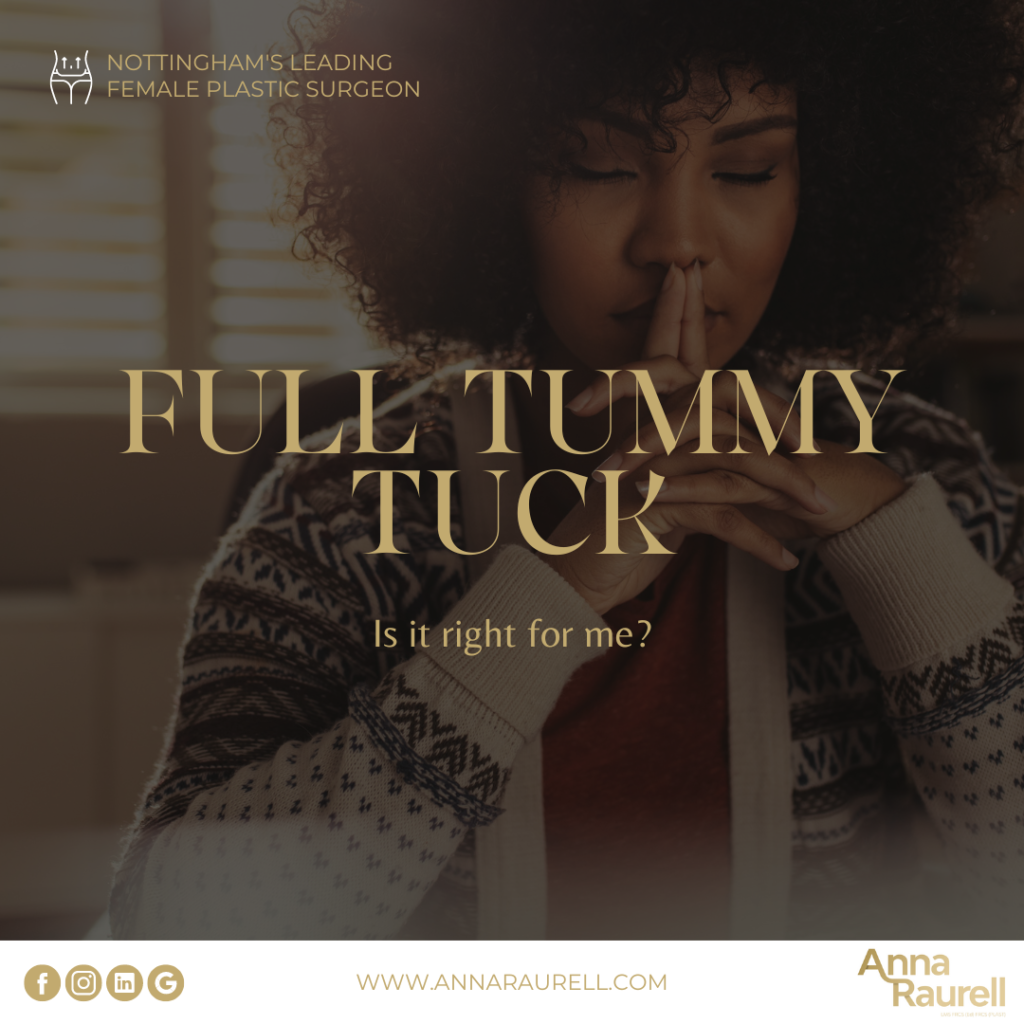 The full tummy tuck is a surgical operation that can create an impressive difference by removing excess fat and skin tissue and tightening the abdominal muscles, an individual can achieve a tighter and smoother abdomen.
Over time, the muscles in the abdominal wall can separate from the midline creating a bulge. This occurrence is called diastasis recti, or divarication and can be particularly problematic after childbirth.
A full tummy tuck is aimed to eliminate excess skin, fatty tissue and to bring the muscles back to their native position to create a flatter, leaner and more youthful waistline.
Full tummy tucks are an effective way to tighten and flatten your abdomen. For people who are close to their desired body weight but still uncomfortable with the appearance of their bellies, tummy tucks are the ideal procedure.
The results of a tummy tuck are typically permanent and you will notice:
A tighter, more contoured midsection
Improved abdominal tone
More proportioned body contouring
By improving your appearance with a full tummy tuck, you may also experience enhanced confidence and renewed self-image.
Anna offers the traditional full tummy tuck procedure and the mini tummy tuck procedure. A mini tummy tuck targets the lower abdomen only, usually between the belly button and pubic area. Mini tummy tucks are less invasive as they have a shorter incision.
Typically, most patients who are considering a full tummy tuck or mini tummy tuck are looking to improve the appearance of their abdomen from issues caused by:
Pregnancy
Heredity
Aging
Prior surgeries
Significant weight fluctuations
While full tummy tucks and mini tummy tucks are not weight-loss procedures, they are the perfect complement to a healthy diet and exercise routine. The operations are effective for patients close to their stable, target weight who may still have extra skin or fat in the abdomen that hasn't resolved with diet and exercise.
In general, ideal patients for a full tummy tuck include women and men who are in good mental and physical health and want to permanently improve the appearance of their abdomen by removing excess skin and stubborn pockets of fat.
Ideal candidates for a tummy tuck should:
Live a healthy lifestyle
Be non-smokers
Be near their ideal weight
Be finished with childbearing
Have excess skin in their lower abdomen
Want to improve the appearance of their abdomen
Have realistic expectations for their procedure
Understand the risks of a surgical procedure
To book a consultation with Anna Raurell please contact us here.