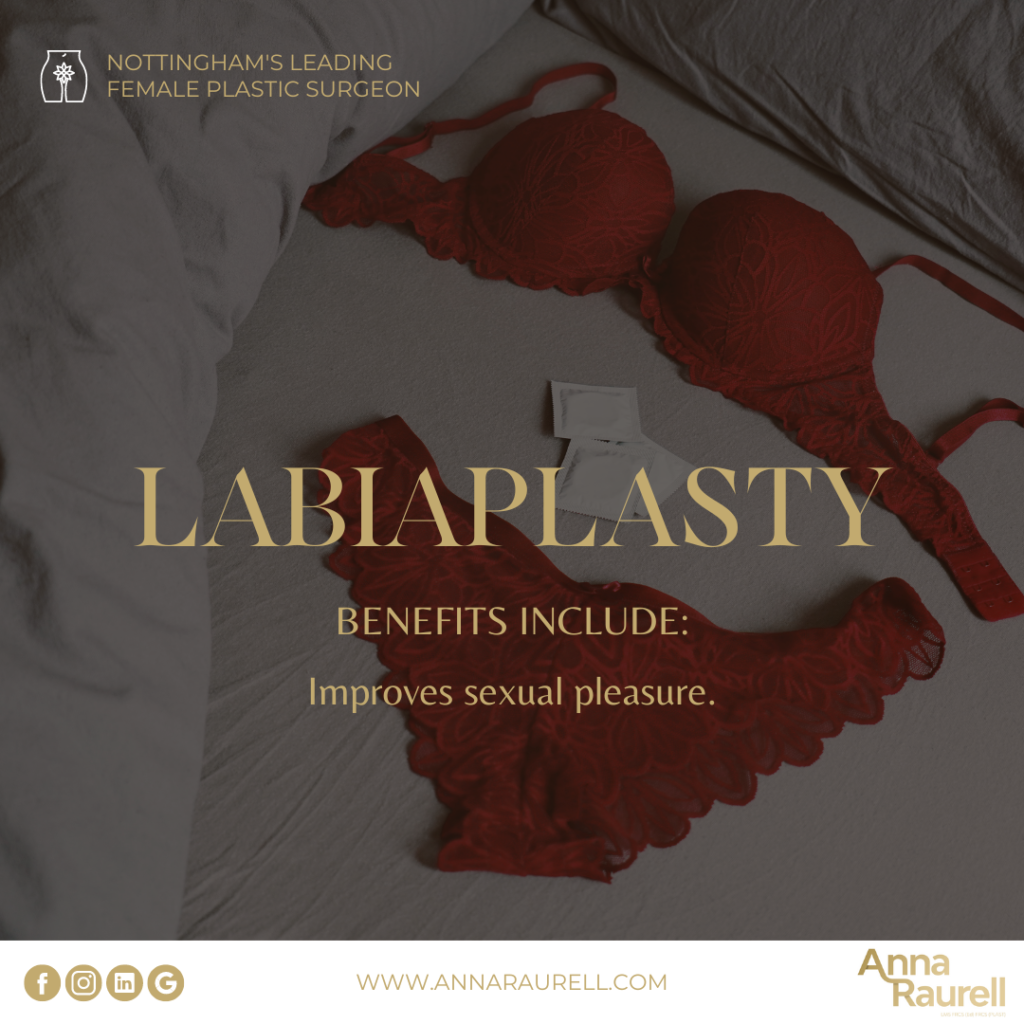 The goal of a labiaplasty is to provide each patient with their desired outcome, so each surgery produces different results. Patients can expect to have a neater appearance with the majority, if not all, of the labia minora tissue concealed within the labia majora. Results from labiaplasty surgery are long-lasting. However, occurrences like vaginal childbirth, aging, or trauma can affect results.
Post operative recovery from a labial reduction procedure takes up to 6 weeks for most women. Normal activities are resumed within 5-6 weeks. During this time, you may feel slight pain, discomfort and swelling in the treated areas. Anna recommends following your aftercare instructions carefully so you can return to your everyday life in no time. Below is a short timetable of your recovery from a labiaplasty procedure.
DAY 1 POST OPERATIVE
After a successful procedure, you will be able to return home. The labia minora will be swollen and on many occasions quite bruised. You will have to wear a period pad for a few days after the surgery as you may bleed for a few days after the surgery. You will be given an antibiotic ointment to apply over the wounds twice a day. This is not a very uncomfortable procedure, most times paracetamol is enough to relieve any discomfort.
DAY 2 AND 3 POST OPERATIVE
Any light residual bleeding should have stopped by this time.
DAY 4 AND 5 POST OPERATIVE
You should be feeling much better by this time and you should begin taking regular, brief walks to increase the blood flow. On the fifth day, your labia should start to look and feel normal. Your healing incisions will have improved significantly. Avoid wearing any tight trousers or thongs.
DAY 6 AND 7 POST OPERATIVE
Your first week has passed successfully. The swelling, discomfort and bleeding should have improved. Your sutures will gradually start disappearing after 10 days.
THREE WEEKS POST OPERATIVE
Your continued improvement allows you to move more freely. Discomfort and regular sensitivity will be greatly improved. At around 16 days you can slowly ease into more physically demanding activities. Avoid wearing any tight underwear.
FOUR TO SIX WEEKS POST OPERATIVE
Any remaining discomfort should be easily manageable if not completely absent, and there should be no more swelling. Normal activity can be resumed during this time, but please wait the full six weeks to make a full recovery before returning to sexual activity. If you enjoy horse riding or cycling, please wait for 8 weeks to start, gradually increasing intensity.