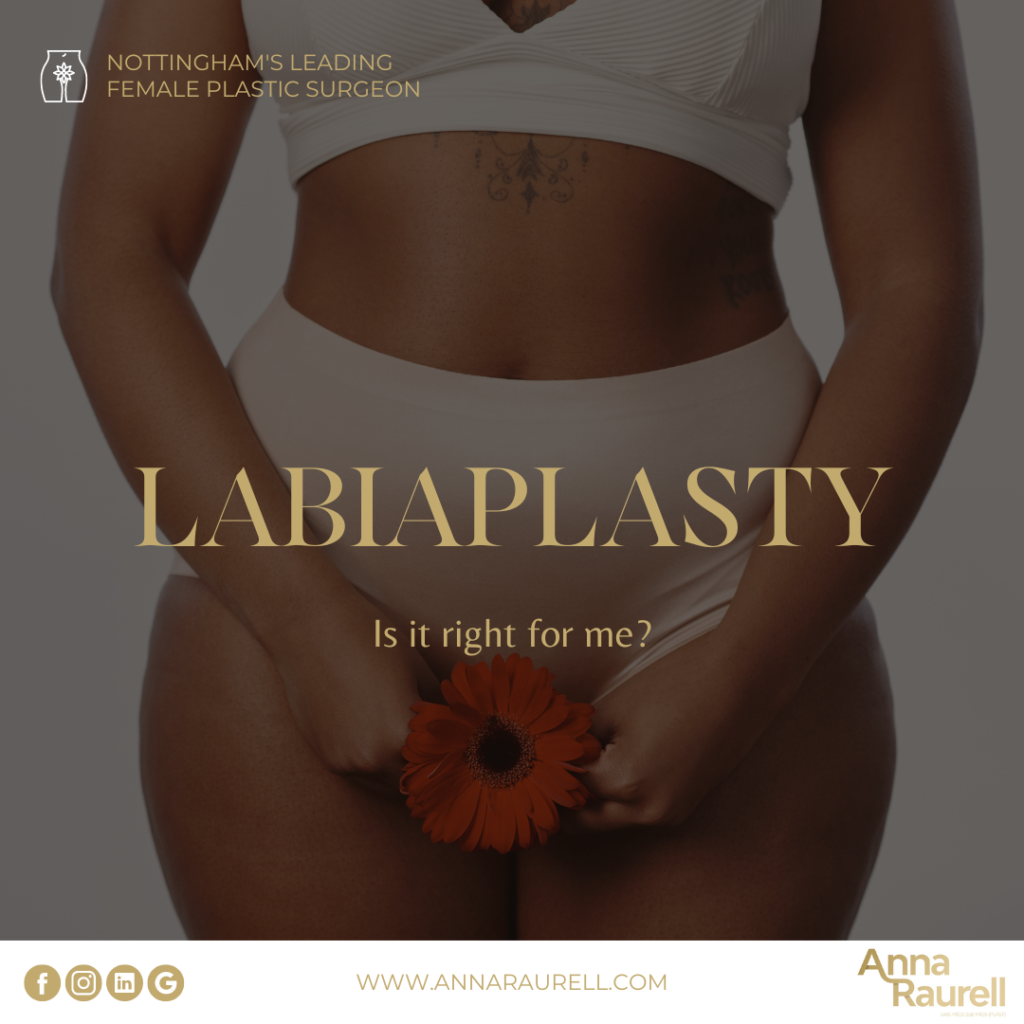 Whether you are experiencing discomfort with your everyday life and activities or are feeling self-conscious about excess skin between your legs, having a labiaplasty by Anna Raurell can help you feel more comfortable and confident.
Reduction of the labia minora or otherwise known as labiaplasty, is the surgical removal of excess unwanted tissue from your inner lips. It is a procedure that requires skill and expertise to finesse the varying vulva anatomy that women have. Labia's come in many different shapes and sizes and therefore a skill set including multiple techniques is required.
There are many reasons why a woman might choose to undergo a labiaplasty such as:
Lack of confidence with intimacy. Many patients avoid intimacy due to embarrassment of their labia.
You may feel discomfort in clothing such as thongs, jeans or swimwear therefore it prevents you from wearing what you want.
You may feel self-conscience about a bulge and you just want the freedom to be comfortable.
Pain during sex. The labia can be pulled during sexual activity. Friction can even cause tears during intercourse.
Birth trauma following labour and delivery.
Chaffing / skin irritation. As the labial skin rubs, it can cause darkening and thickening as well as itching and dryness.
Negative comments from sexual partners. Unfortunately, many women have reported a history of unflattering comments regarding their hanging labia.
Interferes with physical activities. Horseback riders, gymnasts, swimmers, cyclists and dancers have frequented our clinic for this reason.
Aesthetically displeasing. Sometimes, patients just don't like the way it looks.
There are different labiaplasty techniques that can be performed to address an enlarged labia. Anna will assess your condition during the consultation and determine which technique will provide optimal results for you.
If the look or feel of the labia is becoming physically or emotionally an issue then Anna recommends seeking treatment to help. It is worth noting that there is also no such thing as a "perfect labia,". Anna listens closely to each and every patient and their goal to devise a surgical plan that will provide a labia that they find aesthetically pleasing, and ultimately complement the patient's unique body and contours.
Labiaplasty is a surgical procedure, so the decision should always be thoroughly thought through. However, the decision to have labiaplasty can prove incredibly beneficial to the patient.