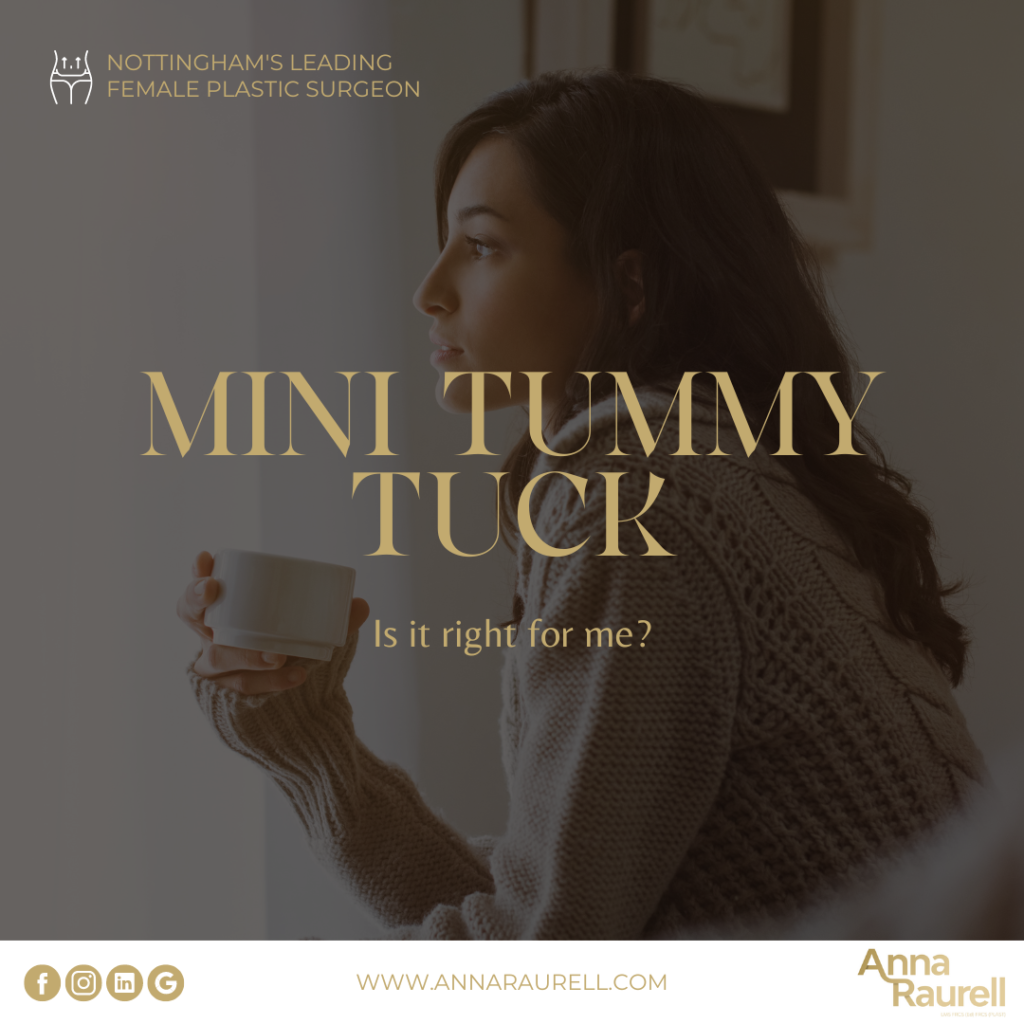 Mini Tummy Tuck
It is inevitable for your stomach to change over time. It doesn't matter if you are a man or a woman, skin laxity and stubborn fat deposits will begin to form for many reasons, including age, genetics, motherhood, and lifestyle changes. Even with regular exercise and a healthy diet sometimes we cannot achieve the stomach that we desire.
Some women are more susceptible to body changes post-pregnancy, this is due to the stretching of the muscles and ligaments to accommodate a growing child which ultimately challenges the body.
A mini abdominoplasty, commonly called a mini tummy tuck, is a variation of the traditional tummy tuck. It treats minor pouching in the lower abdomen through a combined process of removing excess fat and skin and tightening loose, weak muscles in the area. The result is a firmer, flatter tummy. Anna may perform a mini tummy tuck on its own, or perhaps coupled with another procedure such as liposuction for greater reshaping of the lower abdomen.
The mini tummy tuck differs from the traditional tummy tuck through its focus on the lower abdomen, while the traditional tummy tuck's range may expand to the navel. The incision for this procedure is smaller, with less scarring and better-disguised thanks to its location just above the pubic region. However, its results remain confined to this area. During your consultation with Anna, together you can decide whether a mini or traditional tummy tuck fulfils your needs best.
Ideal patients for a mini tummy tuck would have a small amount of excess skin and fat in the lower abdomen and ideally a good muscle tone. Male patients for this procedure are generally very athletic with great abdominal muscle tone but who have unwanted, extra skin in the lower abdomen.
Anna will perform this procedure, which involves a single incision, for patients needing minimal correction. A mini tummy tuck also uses a shortened incision and is less invasive overall, meaning you can get the correction you want with a faster, more comfortable recovery process in many cases. In contrast, a full tummy tuck involves the entire abdominal area.
During your pre-operative consultation, Anna will discuss the differences between the two techniques so you can weigh the benefits and together choose the right procedure for you.
Together, you will plan what will happen surgically to ensure you get the results you want. Should more correction be necessary than what is provided with a mini tummy tuck, Anna may recommend a traditional tummy tuck to give you the desired outcome.
This procedure is excellent for patients who require less contouring to the body than what a full tummy tuck offers and can be a good option for you if you:
Have a little bit of loose or sagging skin below your belly button
Retain excess fat and skin despite a regular diet and exercise
Are satisfied with the appearance and tone of the upper abdomen
Do not need extensive muscle tightening in the lower abdomen
As always, patients for any surgical procedure should be in good health, non-smokers, and have realistic expectations about the results.
If you feel you are ready or would like to learn more, arrange a consultation with Anna Raurell at BMI The Park Hospital. Anna is here to answer your questions and help you make a completely informed decision.