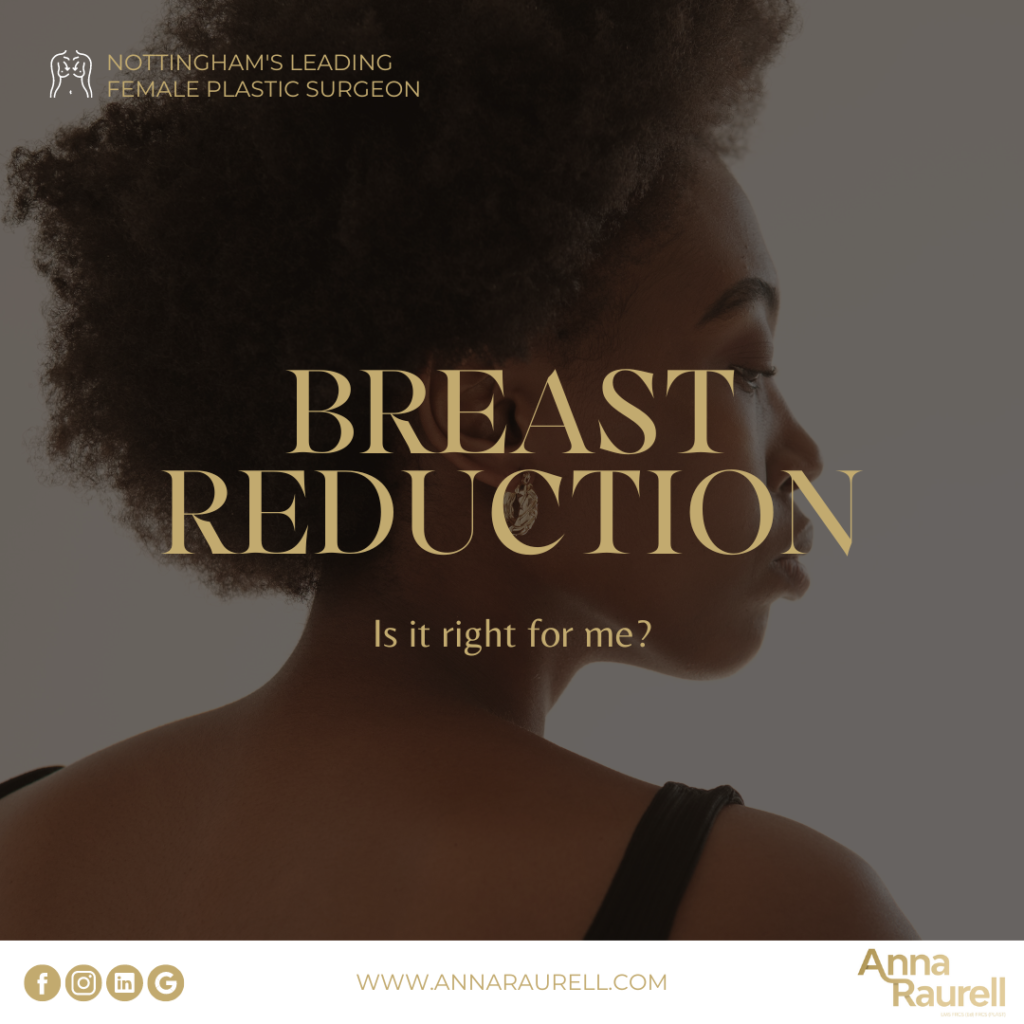 Why do patients consider breast reduction surgery?
If you have overly large breasts and are considering a breast reduction surgery to alleviate constant pain and discomfort, you are not alone. In 2021, more than 2500 women throughout the United Kingdom grew tired of coping with this burdensome condition and choose to undergo surgical breast reduction — also known as reduction mammoplasty.
Women commonly contact our clinic complaining of back, neck and shoulder pain, sleeping problems and severe discomfort when lying down, deep bra strap grooving, skin rashes and other conditions. Whether they voice it or not, they often carry an equally challenging emotional burden, having developing self-image issues and feelings of insecurity over their abnormally large breasts.
If you have overly large breasts, breast reduction surgery may be the solution for you.
Apart from the significant health benefits, Anna's patients typically experience a long list of beneficial "side-effects" which include improved clothing fit, ability to participate in physical activities and a completely renewed sense of self-confidence.
There are also cosmetic benefits to be had as dramatic improvements to the shape and symmetry of one's breasts can be made during the process.
Despite the many common social pressures and misunderstandings that surround this subject, the decision to undergo a breast reduction is yours and yours alone. Only you truly know how drastically your life might be enhanced if your breasts were in proper proportion to your overall body size and shape.
How do you know if breast reduction is right for you?
There are a number of physical and even emotional conditions which may indicate that you are a good candidate for breast reduction surgery. These range from back and shoulder pain to inability to participate in physical activities.
When you come to see Anna for your initial consultation, she will take the time to understand your situation and help you determine if a breast reduction is right for you.
For those who do not qualify for breast reduction surgery, a breast lift may be advisable. If you have drooping, sagging, or flattened-out breasts, a breast lift (mastopexy) can give your breasts a more youthful appearance. The procedure can be performed with or without the use of implants, depending on your individual needs and desired results.
If you feel you are ready or would like to learn more, arrange a consultation with Anna Raurell at BMI The Park Hospital. Anna is here to answer your questions and help you make a completely informed decision.