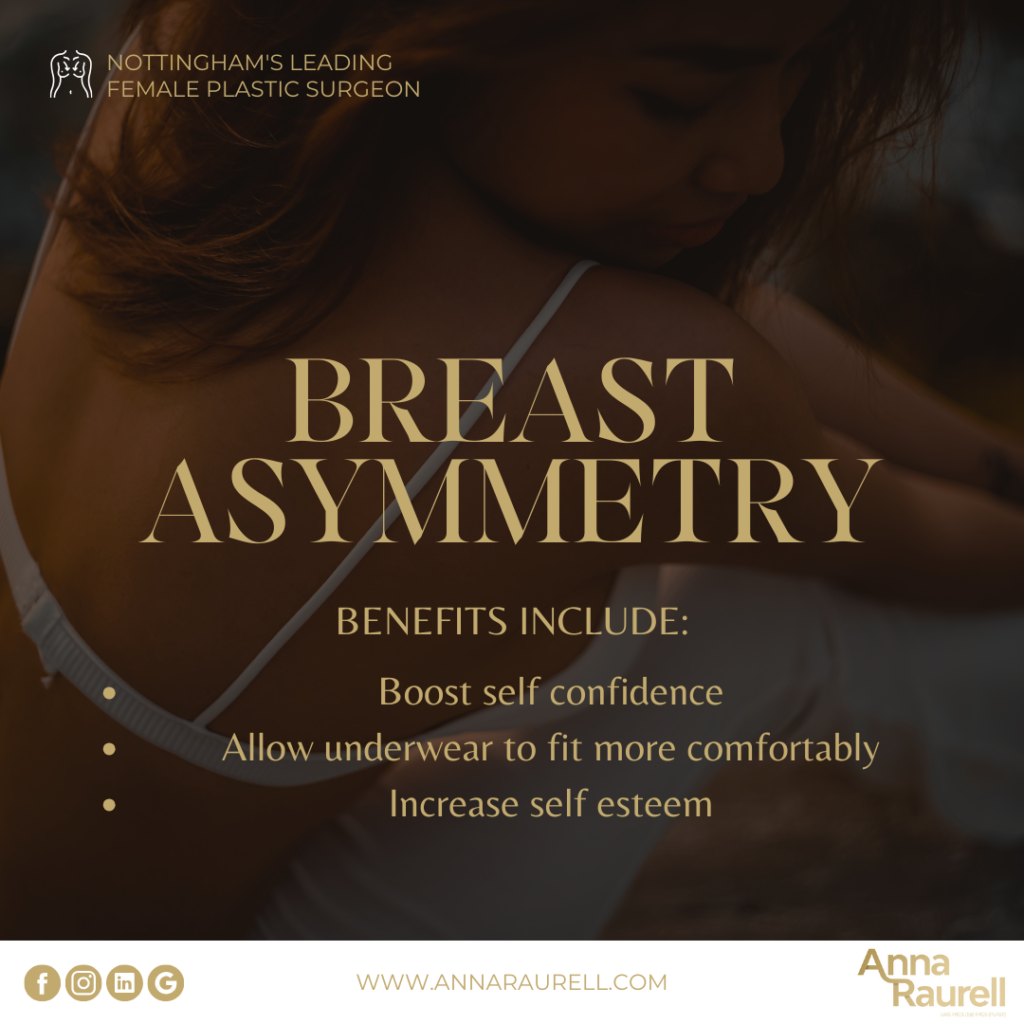 Breast asymmetry can happen as a congenital condition (such as tuberous breasts), or as a consequence of previous surgery.
Having asymmetrical breasts can severely affect your self-confidence and quality of life. Thankfully, there are a number of surgical options available to create or restore symmetry between your breasts.
Asymmetrical breast can be corrected with a single operation. The most important thing is to make them equal in terms of volume of breast tissue and the skin. The choice of technique most suitable for you will depend on your expectations, as well as the volume and shape that you would like to achieve. It is a decision that you and Anna will make together following a consultation.
The exact procedure depends on your chosen course of treatment, however most surgeries for breast asymmetry will require a two night stay in hospital. Anna will provided a personalised aftercare package, included in your treatment package. After you are discharged, you will be provided with post-operative care instructions, and 24-hour access to trained staff to advise and assist with any questions or concerns.
Breast asymmetry post operative follow-up appointments with Anna will be arranged to monitor progress, and check you are recovering well. From experience, we estimate that it takes around 2-3 weeks to recover and heal from this procedure.
Breast asymmetry post operative standard follow-up appointments are approximately 2 weeks after surgery: Anna will see you and check your wounds to ensure proper healing and no infections.
Breast asymmetry post operative are again approximately 6 weeks after surgery: further follow-up to check recovery.
After 6 weeks, your breast asymmetry post operative appointments will continue at regular intervals if you are not yet fully healed. Appointments will continue until you are completely healed. Please be aware that your exact schedule may vary slightly from the example due to your specific needs.
Take a look at our before and after gallery to see Anna's work. If you have any questions please do contact us.