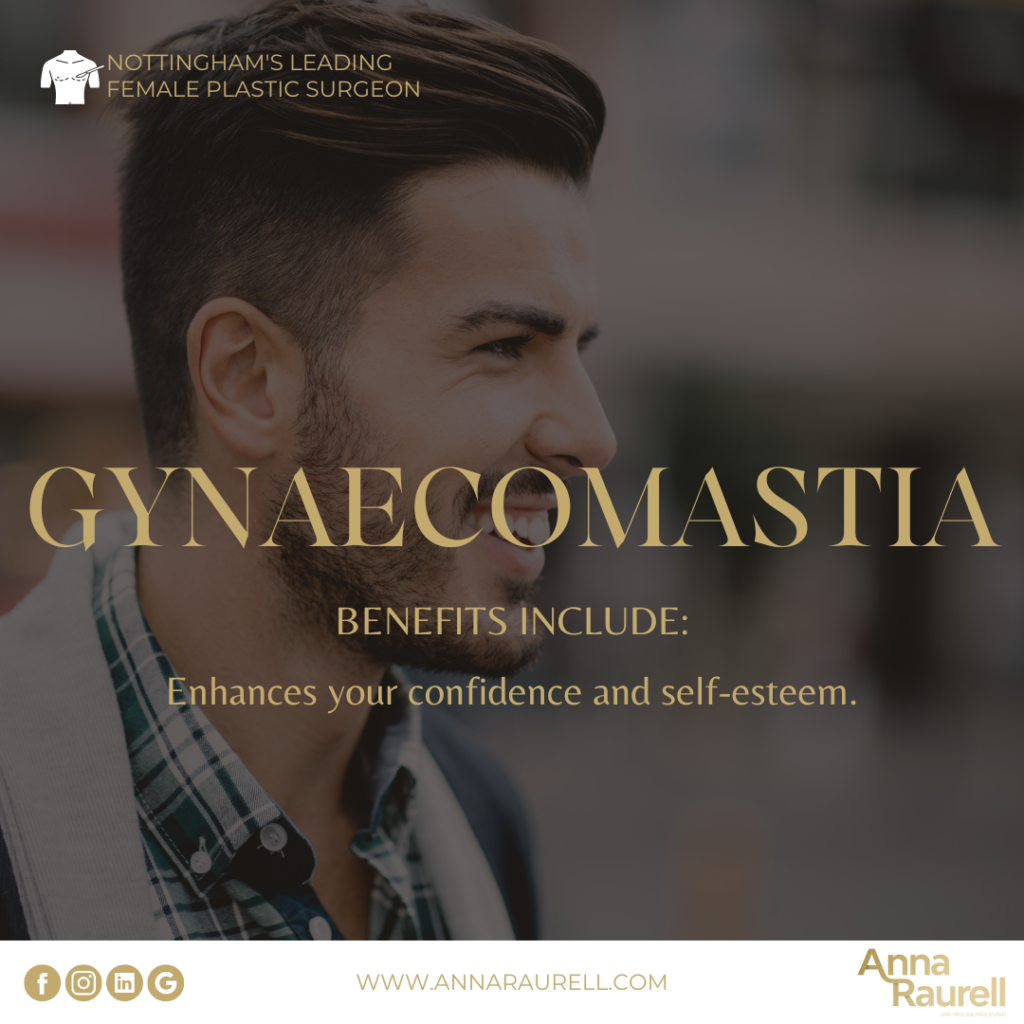 Gynaecomastia recovery
Good candidates for a gynaecomastia procedure include men of any age who are healthy and in good physical shape. You should be as close to your ideal weight as possible and your weight should be stable. You should also have realistic expectations.
The best candidates for surgery have firm, elastic chest skin that will reshape to its new contour after removal of excess tissue.
Anna performs the gynaecomastia procedure under general anaesthetic and has helped many men of all ages achieve a natural more sculpted look. Male breast reduction surgery takes approximately two hours, but the results are long-lasting.
Male breast reduction can involve a combination of liposuction and direct tissue removal in order to achieve a flat, contoured and more sculpted look.
If the main cause of the increase in the breast is fat, liposuction may be the only treatment. If on the other hand, if glandular tissue is present in excess, there will be excision of the tissue. There are different grades of gynaecomastia and according to that a different treatment is recommended.
In general, the first part of the procedure involves liposuction where excess fatty tissues are removed from the chest area. A small incision is typically made around the areola or under the arm. Anna gently inserts the cannula under the skin so unwanted fat can be suctioned out of the area.
Next, Anna will perform the breast tissue excision. This is necessary to remove any excess glandular breast tissue from the chest area.
If any there is a large amount of excess of skin, this will also be removed.
Liposuction only removes excess fat from the area, and if glandular tissue is the primary cause of the enlarged breasts, the glandular tissues are carefully removed so that the upper chest now lies flat and looks more masculine.
In some cases, reduction of the areola or removal of excess skin are required in order to achieve the optimal results.  In most instances the surgery is performed with very small incisions that result in little to no visible scars.
Patients with excess skin and glandular tissue will have more visible scars to achieve a good result.
The recovery process varies from patient to patient. In general, you should allow 1-2 weeks recovery before fully resuming your normal daily routine activities. It will always depend on your job. You can resume strenuous activity and full exercise around 6-8 weeks after surgery.
Following the surgery and recovery process we request that patients maintain a healthy lifestyle and they can then continue to enjoy the benefits of male breast reduction.
Here you will find some before and after pictures of gynaecomastia that has been performed by Anna that shows the male chest prior to surgery and after recovery.
You can find out more about gynaecomastia here, or book in for a consultation.