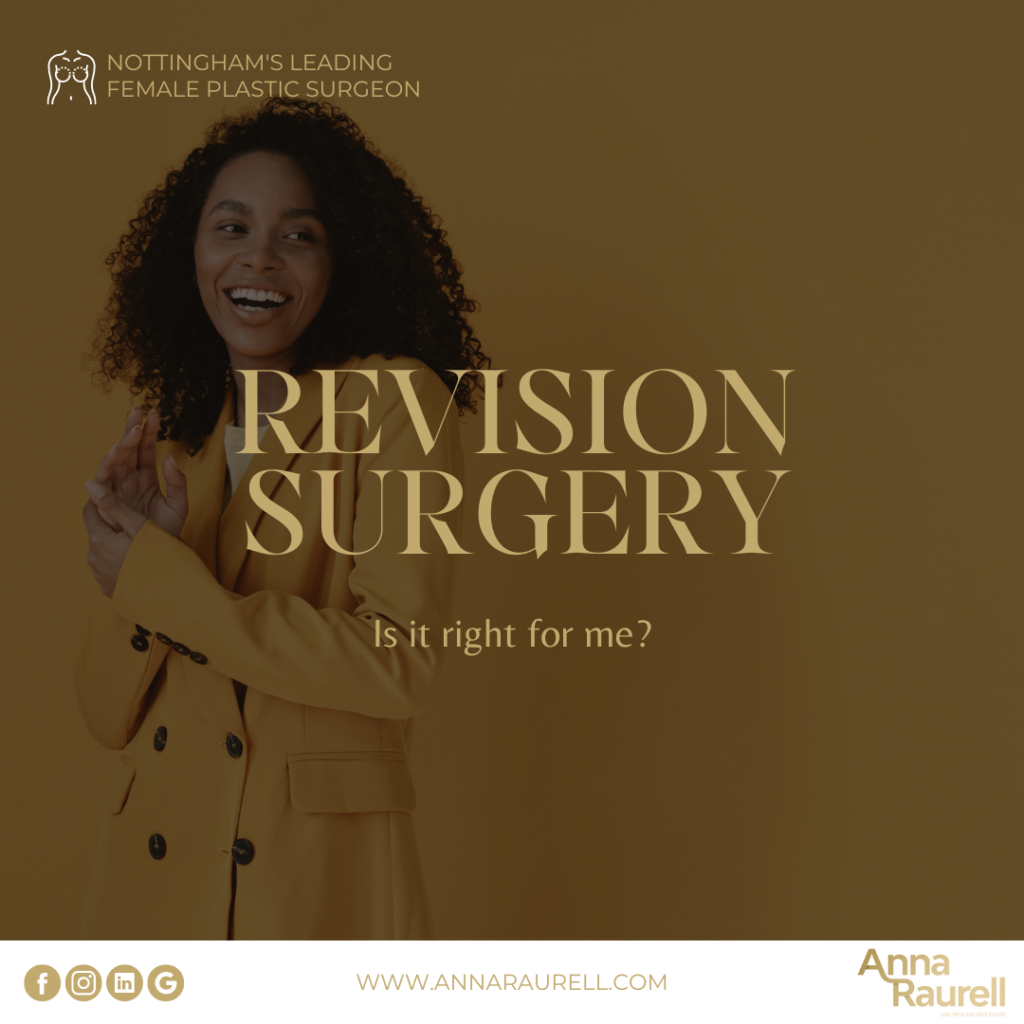 Breast revision post operative information
This information is for those who have had breast augmentation revision/exchange implants.
Most of our patients tell us they feel less discomfort than after their original augmentation surgery. This is because the skin and the muscle (if the implants are placed under the muscle) have already been stretched in the previous surgery. Women may still feel swollen and sore, but the discomfort should not be as bad as when the implants were originally placed, unless the size of the implants is much bigger.
Following your breast implant revision, the scars will be a bit longer, glue dressing and a wash-proof dressing will be placed. You will wear a bra after the surgery. In most cases, a small, thin tube may be temporarily placed under the skin to drain any excess blood or fluid that may collect, but Anna will talk through all of this with you prior to your surgery.
Your experience after breast revision surgery will depend on the techniques that Anna uses to achieve your goals. For example, if you have a breast lift, you will need about 3 weeks for your recovery. Anna can discuss anticipated healing times after defining your treatment plan.
The final results of breast implant revision surgery will be initially obscured by swelling. It will take at least six weeks for the swelling to resolve and the breasts to feel softer and more natural. In some cases, it can take 6-12 months for the breasts to feel "normal."
Healing time is different for everyone and sometimes it can take longer for the breasts to soften, for normal sensation to return, for scars to fade and for the patient to get used to the feel of having an implant. Please discuss realistic expectations with Anna regarding healing.
Breast revision post operative weeks 1-2
Most patients can return to their daily routine after a week or two, depending on your job.
Breast revision post operative weeks 3-4
Vigorous activities should be avoided for three to four weeks. During this time, any bruising, swelling, numbness or tingling will decrease and, if you have had new implants placed, they will settle into their final position. Your scars will continue to fade and soften for up to one year following surgery. Most patients also want to know how visible their surgical scars will be.
Anna is very focused on providing the most natural appearance possible, and so she will use a variety of techniques during surgery to limit scarring.
Remember not to rush the recovery process; patience is key to achieving the best possible outcome.
To book an appointment with Anna Raurell please contact us.